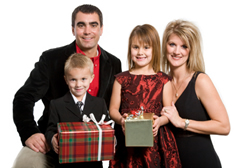 Nothing ruins the fun of a holiday party more than feeling self-conscious or out of place and the clothes you are wearing play a big part in how comfortable you feel. When you choose the right outfit for an event, you're free to enjoy yourself. But knowing what is appropriate for each holiday event can be tricky.
Use these tips to help you make the right choices.
1. Pick an outfit that is suitable for the occasion
If you arrive at a black tie event wearing jeans or at a backyard barbeque in a ball gown or tuxedo, you will feel awkward no matter how good you look. Before you decide what to wear, check the invitation. A formal event will typically indicate the dress code. If it doesn't specify, you can gather clues by the time of the event and the location. Events in the evening are usually more formal than those in the afternoon, and a formal venue, such as a dance hall or up-scale restaurant, warrants more formal attire than an event held in a home or office.
2. Choose clothing that is age-appropriate
We all like to feel and look youthful, but wearing trendy clothing intended for a much younger crowd is not the way to do it. If you're young, you can be more adventurous with new styles or seasonal colors. For more mature party goers, don't be boring, but avoid wearing the same outfits your children do.
3. Wear the right size
Nothing is more unflattering than a tight and bulging outfit that you have just managed to squeeze into. If in doubt, when selecting size, always choose the bigger one as a little loose is better than pinched and uncomfortable. For women, also consider your skirt or dress length and, for most occasions, avoid very short skirts and low-cut tops.
4. Stick with your favourites
If you have an outfit that you always feel good in and know that it suits you, then wear it, especially if it has a classic look. You can easily dress up a classic black dress with new jewellery or other accessories. For men, a traditional black suit can be brightened up with a colored shirt or festive tie.
5. Choose clothing that flatters your figure
Take some time to determine your body type and choose clothing that accentuates the positive and minimizes the negative. If you aren't sure if something is flattering to your figure, don't be shy about asking a good friend or a sales associate for their opinion. A tailored suit is flattering on almost every body type and can be dressed up or down with accessories to suit the occasion. A bright piece of jewellery or a striking tie can help focus attention on your best features and even add some festive spirit for the holiday season.
Not only does wearing appropriate attire help you feel more comfortable at parties, it shows respect for your hosts. If you have any doubt about the dress code, do not hesitate to contact the hosts ahead of time to ask.