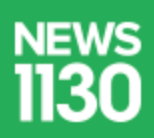 Halloween vs The Etiquette Expert: The Reckoning
by Mike Lloyd
VANCOUVER (NEWS 1130) – You know what's scary? Misjudging your Halloween party hosts this weekend and wearing the wrong costume!
Is it a no-holds-barred, adults-only kind of party — or maybe something a little more family friendly? Etiquette expert Elizabeth Burnett suggests you should probably figure that out ahead of time.
"If you're hosting a party, be clear with your invitation if it is a family, adult or gathering for all," says the owner of Elizabeth Etiquette.

"If you're attending, take a little time to think about your costume and dress appropriately for the party. Is it for work or is it a gathering of friends? Should your costume be a little more conservative or can you really go wild with the makeup?"
If you're unsure, Burnett has a rule of thumb:
"Don't expose too much skin and don't expose too little," she tells NEWS 1130, suggesting full face and body costumes should have some kind of opening to allow your hosts or trick-or-treaters to know who's behind the mask.
. . . .