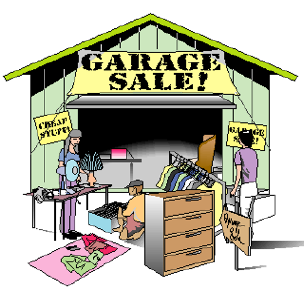 It's that spring cleaning time of year. Time to clear the closets, basements and attics! What better way to do so, than hosting a garage sale. But remember, one person's garbage is another person's treasure. So whether you are hosting a garage sale or attending a garage sale, here are some etiquette tips to keep in mind.
Hosting a Garage Sale
Be respectful of your neighbors
Let your neighbors know you are having a garage sale
Invite your neighbors to participate and make it a multi-family/community garage sale
Avoid confrontation – tag "Sold" items with customer's name and number for later pick up
As an added incentive, offer delivery for larger loads – for a nominal fee
Prepare for changes in the weather – have tarps on hand
Hospitality is key – offer refreshments to keep people browsing and buying
Smile – greet everyone with a warm welcome
NOTE: Beware of fraudsters. Know how to recognize counterfeit bills.
SIGNS: How will your garage sale stand out? Post notices on Craigslist and post flyers around the community. However, as a common courtesy after the sale has ended; remove all posts online and flyers.
Attending a Garage Sale
Parking – be respectful of the neighborhood and do not block driveways or other vehicles
Respect the host's property and stay within the boundaries of the garage sale (in other words, do not wander around the property)
Take cash with lots of change
If you really want to buy something, hold on to it. Putting an item back down and leaving it is fair game
Careful handling of fragile items – just like in the shops, if broken, consider it sold
Don't be pushy – be respectful of other customers browsing the sale.
At Elizabeth Etiquette we wish you success whether you are buying or selling!